YESTERDAY was the first day of the Fabulous Valentine's Day Challenge. I have been having such a great time doing IT's OK THURSDAY! I figured this would be lots of font to do!
Neely
,
Amber
and
Casey
are doing this challenge so I thought...what the heck!!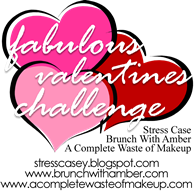 Day 1's topic is BEST DATE EVER!!!
Of course the best date I have ever been on was with my husband Daryl...the date that could have not happened!!Daryl and I met at work as he would come fix my computer....it was weird though..after that first meeting my computer kept needing a fix (I don't know who's fault that was: Mine, Daryl's or FATE'S:). But when he would come into my office we would talk about going and having coffee some time but that never happened! Finally, we scheduled a REAL DATE at this restaurant in Corpus Called D'Lounge for sushi and drinks! I had to push the date back one day because I had sprained my ACL playing kickball and had not slept at all the night before of our originally scheduled date. Daryl later said that he almost broke it off for good but we are both so glad we didn't. During our date we just clicked...we talked and talked and talked. We realized that we had so much in common, went to the same high school, our parents lived about 2 miles from each other and had such a great time! I remember leaving that date and calling on my friends and told her I just met this great guy! After that first date we hung out almost every single day and the rest they say is history! We did move pretty fast:
September 18, 2008- Our First Date
October 20, 2008- Became Boyfriend and Girlfriend (OFFICIALLY:)
Feburary 10, 2009- He asked me to marry him
May 22, 2010- Married!
October 2008
December 2008
March 2009
January 2010
May 2010
June 2011
August 2011
September 2011