Tonight I didn't feel up to cooking and then I remembered the LEAN meatballs that we picked up last week at HEB. We decided that we would make MEATBALL Subs!!! Here are the details:
5 meatballs- 3 PP
Tomato Sauce- 0PP
I added 2 cloves of garlic and some italian seasoning and heated the meatballs in a pan on the stove.
Hot dog bun- 3 PP
Kraft Swiss Cheese- 1 PP
Voila! Pretty dang good and only 20 minutes of cooking:)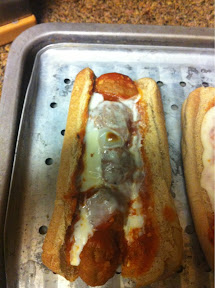 Alexia Yukon Gold Fries- 3 oz for 3 PP

I decided to also add some grated Romano Cheese on top. 1/2 tsp was more than enough and it was 00 PP.

VERY FILLING:)

Happy Eating!