The next reciepe I tried was the Sweet n' Sticky Sesame Chicken. I love Sesame Chicken as any Chinese restraunt. I also know it is full of fat and chalked with many PP values. This was just as delicious. Here are the details:
Ingredients
10 oz. raw boneless skinless lean chicken breast, chopped into bite-sized pieces
1/4 cup whole-wheat flour, divided
1/4 cup fat-free chicken broth
2 tbsp. sugar-free pancake syrup
2 tbsp. seasoned rice vinegar
1/2 tbsp. lite/low-sodium soy sauce
2 tbsp. thinly sliced scallions
Optional: crushed red pepper
Instructions:
Preheat oven to 375 degrees. Spray a baking sheet with nonstick spray and set aside.
Place chicken in a bowl, season with salt and pepper, and cover with egg substitute. Toss to coat and set aside.
Place 2 tbsp. flour in another bowl. Use a fork to transfer half of the chicken to the flour bowl, allowing excess egg substitute to drain back into the egg bowl. Thoroughly coat chicken with flour, and then transfer to the baking sheet. Wipe the bowl clean, and then repeat with remaining flour and chicken.
Bake chicken in the oven until fully cooked, about 10 minutes.
Meanwhile, to make the sauce, combine broth with cornstarch in a small nonstick pot and stir to dissolve. Add syrup, vinegar, ketchup, soy sauce, sesame oil, and garlic. Mix well and bring to medium heat on the stove. Stirring often, cook until thick enough to coat a spoon, 2 - 3 minutes. Set aside.
Place cooked chicken in a bowl, top with sauce, and toss to coat. Sprinkle with sesame seeds and scallions.
Total: 7 PP for the Chicken
I paired Brown Fried Rice.
Total: 5 PP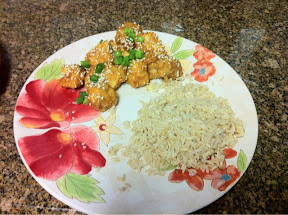 -Happy Eating!